Tips For Traveling With A Dog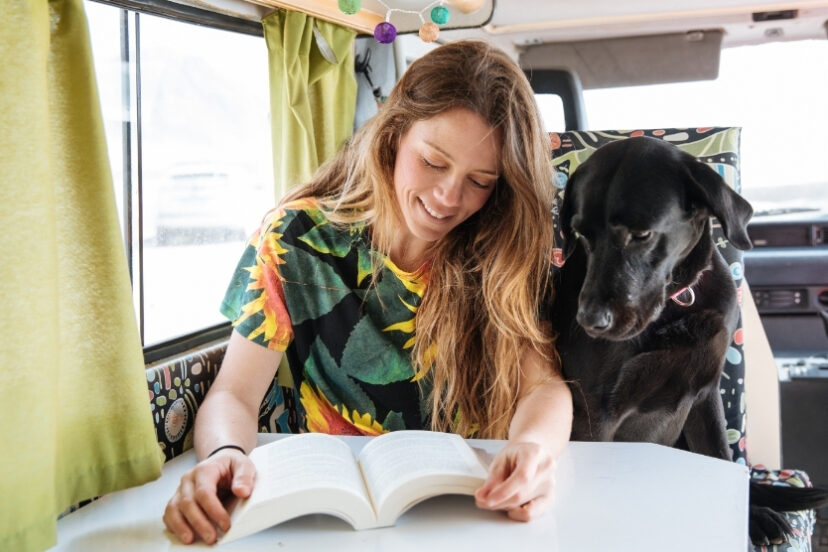 What would your RV adventure be like if you had to leave your beloved pets at home? Our dogs becomes our family members with a bond so strong, it cannot be broken.  People tend to take them almost everywhere, to places such as the park, grocery stores, camping, vacations, and of course; RVing!
So it's time to hit the road, Jack (or Bella or Fido)! What would those road trips be if we had to leave our beloved pets at home?
Today you're going to discover that with a little advance planning, there's no need to. I've put together some of the best tips we've found on traveling with your fur kids. Read on for tips for traveling with your dog this summer.
Planning Ahead
You will want to carefully plan your route, and you should start early. Doing this right will take time and effort.
You will need to check with all of the campgrounds you plan to stop at to see if they allow dogs and if so, what their rules are.
Gopetfriendly.com is a great resource for route planning. They maintain a large database of pet-friendly campgrounds, restaurants, national parks, and other attractions, but they will caution you to call ahead to be sure there have been no changes.
Some pet-friendly campgrounds will not allow dogs to be left alone in the RV or on site. If you plan to visit any attractions where dogs are not welcome, you will need to make other arrangements, such as finding a local kennel.
Even in parks that allow dogs to be alone in an RV, is it a good idea in the heat of summer?
If you must leave them, it's recommended that you use technology to keep your dog cool. One such device is a remote temperature sensor that will monitor the heat inside the RV and let you know via your cell phone if it gets too hot.
The key is to plan ahead so you'll be prepared for the hot dog days of summer.
Packing for Your Dog
Of course you will need to pack basics like food and water bowls, your dog's bed and toys, but you will also want to be sure you pack your dog's health records and proof of vaccinations. Many pet-friendly campgrounds will ask to see a valid rabies certificate. Remember any medications and supplements your dog may take, including flea and tick protection.
It's also important to have several forms of identification for your dog, such as an ID tag and a photo at the very least just in case you get separated. You may also consider having your dog microchipped (if he or she isn't already).
One of my own family member's miniature Poodle went missing after running out of their home, which left them feeling extremely sad and hopeless.
Guest what happened next, they received a call from a local veterinarian informing them that he had their Poodle. The vet scanned the microchip and found their contact information.
Just imagine how devastating it would have been if they had not microchipped their Poodle.
I just wanted to share that story to stress the importance of having your dog microchipped.
On the Road
Of course, you should never allow your dog to ride unrestrained in your RV. There are many types of harnesses, dog crates, and carriers that will keep him or her safe in case of sudden stops. Also be sure to deactivate any airbags where your dog will be sitting.
Dog crates and car seats should be fastened with seatbelts or tie-downs. And never let your dog ride in a trailer towed behind your RV. Your dog needs to be in the same space as you.
While traveling, it's also a good idea to try to keep to your dog's regular routine as much as possible. Regular meal times and exercise can help with the stress your dog might feel in a new situation. He or she will look forward to walks just as much as he or she did at home, and possibly more with new environments to explore.
On Site
Consider bringing both a 6-foot leash for walking and a longer one to allow your dog more freedom of movement when it's appropriate. You can also consider a zip line which you can easily make yourself or you can get a zip line off Amazon.
I have one final tip before you hit the road, and that is to be a good neighbor and to ensure that your dog is, too. Be sure to carry waste bags with you and to clean up after your dog.
Believe it or not, there are scented poop bags that will lock the smell in.
You will also want to do what you can to keep your dog's barking to a minimum. (Some campgrounds have rules about this and will ask you to leave if neighbors complain.)
You'll also want to be careful to observe any restricted areas where dogs are not allowed. And if your dog is a breed with a prey drive, you will need to take extra precautions to keep him or her from breaking loose to chase a squirrel or a chipmunk, or worst humans.
Conclusion
The objective when you hit the road is to explore and have fun! With a little advanced planning, RVing with your dog can be an enjoyable experience.
You will likely enjoy your vacation more if you don't have to worry about how much your dog misses you in the kennel, or even at grandma's house.
And your dog will absolutely love you for it!