10 RV Detailing Tips To Make Your Vehicle Shine Like New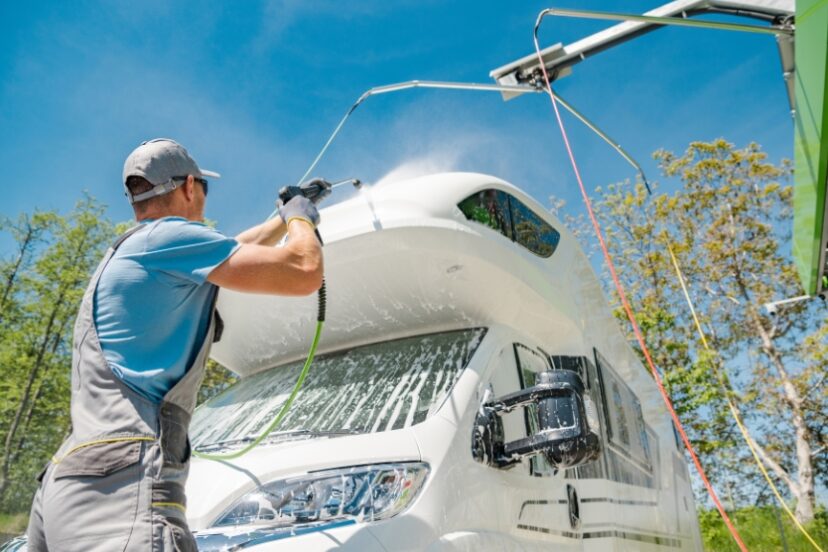 Your RV is a prized possession that you want to shine like new. However, with all the wear and tear that comes from traveling, it is not always easy to keep it looking its best.
That's where cleaning and detailing come in.
We've compiled 7 RV detailing tips that will help you maintain your vehicle's pristine condition and make it stand out on the road.
From exterior cleaning to interior detailing, we've got you covered. So, let's get started.
1)) Clean The Exterior
Start by cleaning the exterior of your RV.
Use a high-pressure washer to remove any dirt or grime.
Afterward, use a pH-neutral soap to wash the surface thoroughly.
Rinse with clean water, and then dry with a microfiber cloth.
To finish off, apply a coat of wax or sealant to protect the paint.
2)) Wash The Windows
After washing the exterior, don't forget to clean the windows.
A commercially available window cleaner and microfiber cloth should do the trick.
Also, consider getting a rubber squeegee to remove any streaks.
3)) Maintain The Tires
Tires are an essential part of your RV, and keeping them in good condition is crucial to safe travel.
Use a tire cleaner to remove any grease, oil, or other contaminants that may cause damage.
After cleaning, check the air pressure to ensure it's at the correct level.
4)) Clean The Roof
The roof of your RV is often overlooked, but it deserves attention too.
Use a soft-bristled brush and a specialized RV cleaner to remove any dirt or mildew.
After cleaning, check for any cracks or leaks and repair them immediately.
5)) Detail The Interior
Now that we've covered the exterior let's move to the interior.
Start by vacuuming the carpet and upholstery. Next, wipe down all surfaces with a gentle cleaner.
For the dashboard, use a vinyl cleaner that will not leave any residue.
Tackle any stubborn grease or dirt from the windows with a glass cleaner.
6)) Deodorize
Unfortunately, RVs can develop unpleasant odors over time.
Combat this by using an odor eliminator, such as an ozone generator.
An ozone generator uses ozone gas to break down the odor-causing molecules, leaving your RV smelling fresh and clean.
7)) Use A Clay Bar
Clay bars are a great tool for removing embedded dirt and grime from your RV's painted surfaces.
Simply spray a lubricant on the area to be treated, then gently rub the clay bar over it.
The clay bar will pick up and remove any contaminants left behind after washing.
8)) Address Any Rust Or Corrosion
RVs are especially susceptible to rust and corrosion, particularly on the underside of the vehicle.
Use a rust converter to stop rust in its tracks, then apply a rust inhibitor to keep it from coming back.
You can also use a corrosion inhibitor to prevent damage to your RV's electrical components.
9)) Maintain Cleanliness
The key to keeping your RV looking great is to maintain its cleanliness.
Keep a small broom and dustpan on hand to sweep up any dirt or debris that accumulates inside your RV.
Use a handheld vacuum to clean carpets and upholstery.
Spot-clean any spills or stains as soon as they happen.
10)) Protect Your RV
After all the detailing is done, the last thing you want is for all your efforts to go to waste.
To protect your RV, invest in a quality RV cover.
It will protect your vehicle from harsh elements such as sun, wind, and rain and make your RV last much longer.
Conclusion
That's it, folks. These 7 RV detailing tips should ensure your vehicle is clean, shiny, and well-cared for.
By following these tips regularly, you'll maintain your RV's value and make it ready for any adventure.
Remember to keep your RV looking its best, especially considering how much it costs to own one!