7 RV Space Saving Tips You'll Wish You Knew Sooner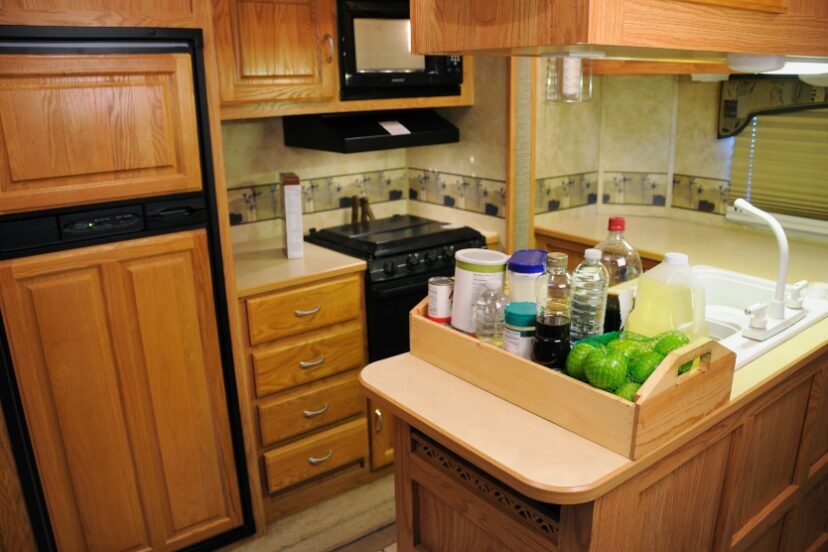 Traveling in an RV is an incredible experience and the best way to spend time with family and friends.
However, the limited space in an RV can make it challenging, especially when it comes to storage and keeping everything organized.
While it might seem impossible to fit everything you need in an RV, there are ways to create more space by following these 7 RV space-saving tips.
These tips will help you make the most out of your space and ensure that you'll enjoy a comfortable and stress-free RV experience.
1)) Maximize Vertical Space
In an RV, you should take advantage of every inch of available space, including the walls.
To do this, you can install shelves on the walls to store items such as books, plates, or spices.
Having storage above eye level will not only increase storage space but also create an illusion of more space.
2)) Use Multi-Purpose Items
There are a lot of multi-functional items that will help you save space in the RV.
For instance, you can use a cutting board that can also serve as a cover for the sink when not in use or a table that can be folded down and stored away when you're not using it.
You can also opt for stackable bowls, pots, and pans, reducing the amount of space they take up.
3)) Install Magnetic Strips
Magnetic strips are an excellent way of making use of empty wall space.
You can secure objects such as knives, screwdrivers, and other metal items to them, saving drawer or counter space and keeping everything organized and within reach.
4)) Use Storage Boxes And Bags
Small items can contribute to clutter fast, that's where storage boxes and bags come into play.
They keep your belongings organized while making sure they aren't getting misplaced or creating clutter in your small space.
Use storage bags for clothes and linens, and small boxes for pens, utensils, or even electrical rolls.
5)) Opt For Foldable Or Collapsible Items
Items such as chairs or laundry hampers could take up a lot of space in the RV.
When looking for these pieces of furniture or storage items, consider opting for foldable or collapsible options.
This way, you can conveniently tuck them away when you don't need them, freeing up space in your RV.
6)) Use Hanging Storage
Door and wall-mounted organizers and pockets offer additional storage space in your RV.
These types of organizers come in a range of materials and sizes, and can easily be customized to suit your needs.
You could use them to store snacks, shoes, toiletries, and even hats.
7)) Go Digital
One of the best ways to save space is to go digital. Instead of bringing physical books, magazines, or maps, you can use your phone or tablet.
You can also store digital versions of important documents such as passports, identification cards, and insurance policies.
This not only saves space but also ensures that you don't misplace your passports or misplace important papers.
Conclusion
By following these RV space-saving tips, you'll free up space in your RV and enjoy a stress-free, clutter-free traveling experience.
There's no need to leave anything essential behind when embarking on your upcoming RV trip.
You can maximize every inch of your RV space with these tips.
Remember, RV space-saving is not only about practicality but also about enjoyment. Use