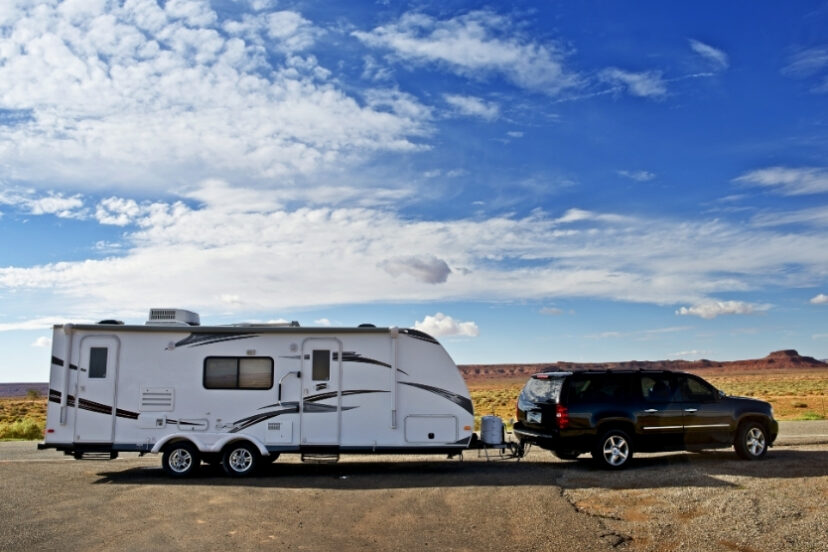 Are you in the market for an RV, but aren't sure if it's within your budget? If so, look no further than this short list that I've put together!
It's important you understand that it is possible to find affordability without sacrificing quality.
I know that you've heard the old saying, "You Get What You Pay For."
While this is not always the case, nine times out of ten, cheaper goods are usually inferior in quality.
You're about to get a quick overview on a few budget-friendly RVs that are worth considering.
Let's explore them now…
1. Mauck 2
If you're looking for a Class A-sized RV on a budget, the Mauck 2 may be exactly what you're looking for.
The Mauck 2 has a Mercedes-Benz chassis, sexy curved glass windows, and a built-in entertainment center great for passing the time in total enjoyment, and an ADA approved wheelchair lift.
The Mauck 2 comes standard with a dinette that folds down into a comfy bed, although the kitchenette is optional.
For this beauty, you're looking at a couple hundred thousand dollar investment, but for a Class A RV, this is about as affordable as it gets without sacrificing quality.
2. Dutchmen Aspen Trail
The Dutchmen Aspen Trail starts at just under $24,000, making this an attractive budget-friendly option.
There are many automobiles that cost more than this.
The Aspen Trail has several different floor plan options, many of which include a bump out for added living space.
The kitchen features sink covers for extra room to maneuver, and the bedroom comes standard with a nice queen-sized bed.
3. Casita Patriot
If you're looking for an affordable travel trailer, look no further than the compact-sized Casita Patriot.
These lightweight trailers are pullable by small SUVs or midsize sedans and come in a variety of sizes.
The largest Casita Patriot trailer is the Independence, which features twin beds and extra room for storage.
The deluxe model comes with a bathroom and shower and sleeps two.
4. OffGrid Adventure Vans
OffGrid Adventure Vans makes budget-friendly campervans that are sustainable and are ecologically friendly, which is great for environmentally conscious people.
These campervans on average cost around $60,000, which can vary up or down depending on how you customize them.
For example, features may include a murphy bed, butcher block countertops, front wheel drive, bathroom with shower and toilet, and a roof rack.
5. Forest River Flagstaff Micro Lite Trailer
The Forest River Flagstaff Micro Lite Trailer is a great lightweight option that won't break the bank, starting under $20,000.
The Flagstaff features 17 different floor-plan options, so no matter what your needs are, you're bond to find a model that works for you.
One unique addition at this price range is a power awning with built-in LED lighting.
6. Keystone Hideout Travel Trailer
The Keystone Hideout Travel Trailer offers a whopping 44-floor plans to choose from, with prices starting at just under $20,000.
The Hideout Travel Trailer is an excellent option for a family on a budget. It comes standard with an air conditioner, retractable awning, and a 50-inch television.
Talk about bringing the luxuries of home on the road with you!
Optional features include a more powerful air conditioning unit and a standalone dinette
7. Roadtrek Simplicity
The Roadtrek Simplicity is a sleek and budget-friendly campervan option. It is fully customizable, with the base package starting at $85,000.
Featuring a functional kitchenette and fold-down seating area, the Simplicity features many of the luxuries of home in a small package.
Exterior features include a retractable awning and optional outdoor shower.
8. Livin Lite Quicksilver Toy Hauler
The Livin Lite Quicksilver Toy Hauler is perfect for a family or group that likes to camp with rugged weekend warrior gear.
Easily store away your ATV, snowmobile, or other off-road vehicles with the spacious garage.
Inside, you'll enjoy the Quicksilver Toy Hauler's aluminum interior cabinets, built-in entertainment center, and charging station with USB ports for a modern touch.
Conclusion
You just discovered 8 budget-friendly RVs that don't sacrifice luxury and functionality that are sure to satisfy your wants and needs.
Don't let your budget discourage you from buying an RV, because many modern RVs are both affordable and luxurious.
Remember, take your time and do in-depth research before deciding on your purchase in order to prevent making a mistake or having buyer's remorse.
Any purchase that cost several thousands of dollars shouldn't be taken lightly.
Good luck on your quest to find the perfect RV at a price that works for you!