Top 10 RV Trips You Must Take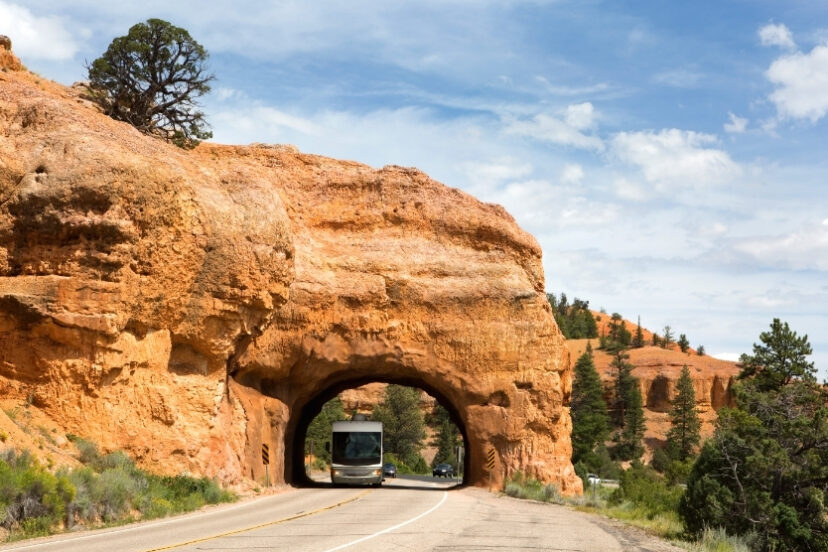 Have you been contemplating where to take your next RV adventure, but are struggling with where to go? Believe it or not, thousands of road warriors are plagued with this same dilemma, despite the fact that there's no shortage of breathe-taking places that can be visited.
Today, I'm going to share ten RV trips that you must take.
Let's begin…
1. Marquette, Michigan
Nestled in Michigan's Upper Peninsula, Marquette is one of Michigan's gems. It's an old mining town on the shores of Lake Superior, visitors are treated to sweeping views of the water and the tree-filled hills surrounding the city.
Marquette has plenty of beaches, museums, shopping, dining, and outdoor recreation options, so there's something for everyone to do.
You can also visit Tourist Park, which is a campground inside the city limits and can be an awesome place to set up basecamp for your adventures.
2. Olympic National Park, Washington
Would you prefer to camp on the beautiful beach or in the mountains? You can have both at Olympic National Park in Washington State.
This RV-friendly national park is located on the Olympic Peninsula and encapsulates the Olympic Mountains and Hoh Rainforest.
Visitors can search for unique rocks on the banks of the Pacific Ocean and trek through ancient Spruce trees in the rainforest, all in the same day.
Talk about double the adventure!
The park has sixteen campgrounds that can accommodate RV's; many are first-come, first-serve, so you'll need to arrive early to avoid wasting time by driving around until someone leaves.
3. Gatlinburg, Tennessee
With several RV resorts located just outside of town, Gatlinburg is a great choice for your next getaway.
Located near the entrance to Great Smoky Mountains National Park, and with tourist attractions galore inside the city limits, you'll have your pick of activities in this Tennessee town.
4. Door County, Wisconsin
If relaxing on the shores of Lake Michigan sounds interesting to you, Door County is a must-visit.
This Wisconsin peninsula has several RV parks, along with great wineries, hiking trails, and pristine beaches ready for your enjoyment.
5. Durango, Colorado
Located near the San Juan National Forest in Colorado, Durango is a beautiful mountain town.
The downtown area features shops and wonderful dining options that are sure to satisfy your appetite, and there are several RV parks near the city limits.
Just outside Durango is Mesa Verde National Park, where visitors are greeted with views of ruins from cave-dwelling civilizations.
6. Moab, Utah
Moab is a small town surrounded by red rock in Eastern Utah and has several RV resort options.
Moab is really known for its mountain biking and ATV trails, as well as world-class hiking trails and proximity to Arches and Canyonlands National Parks.
7. Sedona, Arizona
If a city's vibe is important to you, put Sedona on your must-visit list. This New Age town in Arizona has shopping, dining, and hiking options for everyone.
The city also boasts several "vortexes", essentially large rock formations that are said to emit energy.
So, make sure that you bring your camera to capture nature's natural architectural designs.
And with several RV parks near the city and in the surrounding Coconino National Forest, this is a place worth checking out.
8. Acadia National Park, Maine
Acadia National Park, located along the shores of the Atlantic in Maine, is a must-do. Much like Olympic National Park, Acadia offers visitors the opportunity to hike in the mountains and lounge on the beach, all in the same day.
There are a few RV parks scattered throughout the area and in nearby Bar Harbor, but options are limited so make reservations early, because you don't want to make the drive there only to miss out on this opportunity.
Don't forget the old saying, "The Early Bird Gets The Worm!"
9. Blue Ridge Parkway, North Carolina to Virginia
The Blue Ridge Parkway is a relaxing scenic drive that stretches from the Great Smoky Mountains National Park in North Carolina all the way to Shenandoah National Park in Virginia. The route is scenic and mountainous, with options for RV camping all along the way.
10. Yellowstone National Park, Wyoming
Yellowstone National Park in Wyoming is one of the pinnacle camping spots for any RV'er.
With several options right inside the park, you'll be able to make the most of your time enjoying scenic views of mountain terrain and geysers.
Conclusion
You just discovered the Top 10 RV Trips You Must Take as soon as you get a chance to.
I recommend that you prioritize the destinations you'd like to visit and plan them in advance.
Life is all about creating great memories, and what better way to do so than jumping in your RV and exploring beautiful locations?
These are only ten of the thousands of available options you have at your disposal.
So, to get the momentum going, choose one of the destinations, and start planning today!
>> Click here to read "8 Fun Things To Do While Camping"